Co-Directors & Facilitators
Amethyst First Rider (Calgary, AB)
Amethyst First Rider is a member of the Blood Tribe, born and raised in Calgary, Alberta.  She graduated from the University of Lethbridge in 1980 and received her Master's of Fine Arts from the University of Calgary. Amethyst engaged in further theatre and drama development at Banff Centre for the Arts, Banff Alberta. Ms. First Rider taught Native Literature at the University of Lethbridge for 10 years as a sessional instructor. At present, Ms. First Rider is a major proponent in buffalo restoration, being one of the original organizers of Iinii Initiative, an ongoing buffalo restoration project that has resulted in the signing of a Buffalo Treaty by First Nations on both sides of the Canada – USA border.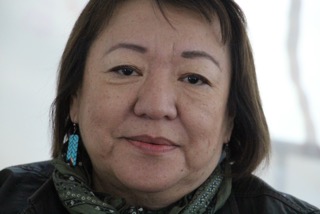 Dave Lane (North Adams, Mass.)
Dave Lane is a painter, writer, theatre artist, and one of the original members of the Old Trout Puppet Workshop, whose initial productions he had the pleasure to co-direct.
For many years he collaborated with the Green Fools Theatre Society in Calgary, Alberta, before moving to New York City to pursue an MFA from Sarah Lawrence College. While in NYC, Dave worked as a fabricator for Emmy winning puppet designer Bob Flanagan, where he built puppets and props for commercials, stage plays, soap operas, PBS, SNL, and the Rockettes.
Dave is a two-time, Jim Henson Foundation grant recipient for his original play The Chronicles of Rose, which tells the story of Rose Valland who helped save countless European paintings from being lost forever during WWII. The story was developed in collaboration with Toronto's Clunk Puppet Lab.
Recently, Dave has been investigating the performative possibilities of articulate, illuminated lantern-puppets. He helped to found The Newfoundland Puppet Collective which brought the St. John's community together over the course of two summers, to create a puppet-adaptation of the traditional Newfoundland tale, Jack and the Bottle of World's End Water. The script was written by Andy Jones and Mary Fearon. This work has led to the formation of the Berkshire Lantern Walk, and will be the design aesthetic for the upcoming Buffalo Belong project celebrating the return of Bison to Banff Nation Park.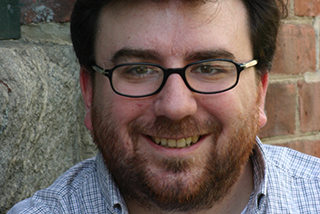 Nan Balkwill (Calgary, AB)
Nan Balkwill is a theatre artist, drama teacher and certified yoga instructor. Her passion for devised and ensemble based physical theatre (mask, puppetry and clown) has led her to collaborate with a variety of companies. She has worked with Green Fools Theatre Society, MoMo (a mix ability contact improv dance company), Vermont's Bread and Puppet Theatre, Clunk Puppet Lab, Champagne Palace (a Blue Lake alt folk band), The Janes and currently she is working on a multimedia puppet show called Broken Sugar Bowl for the Animated Objects Festival.  She has directed for Sage Theatre's Ignite Festival, Urban Curvz's Girls Gone Wild Festival and numerous productions for Vincent Massey School Theatre  -recent credits include The Hobbit and A Christmas Carol.
She has taught Drama, Film and Yoga for the Calgary Board of Education for the past 10 years, she is the co-director of the New England Puppet Intensive in Massahusetts, USA and is an alumni of the professional training program at Dell'Arte International School of Physical Theatre in Blue Lake, CA.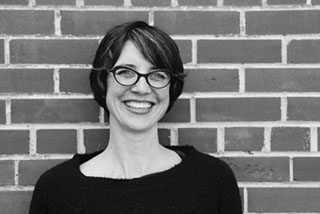 Pete Balkwill (Calgary, AB)
Peter Balkwill is a founding, co-Artistic Director at the Old Trout Puppet Workshop in Calgary, Alberta. He holds an MFA in Acting from the University of Washington in Seattle, and a BFA in Theatre from University of Victoria. He also serves as the Co-Artistic Curator for the International Festival of Animated Objects.
He has taught as head of movement at the University of Victoria and facilitated workshops with companies across Canada, U.S. Denmark and France – including as Director of the Banff Puppet Intensive at the Banff Center for Arts & Creativity,  and Co-Director of the New England Puppet Intensive. He has also led extended workshops at Hollyhock, NTS, Toronto School Of Puppetry, Brown University, Rhode Island, University of Washington, and the RCA in St John's Newfoundland.
He also has ten years experience as an experiential educator in outdoor leadership, building group strength through initiative challenges at the Rocky Mountain YMCA Outdoor Center, situated in the Canadian Rockies.
Peter is also the drummer of the boot stomping, punk-bluegrass, hollar band called The Agnostic Mountian Gospel Choir.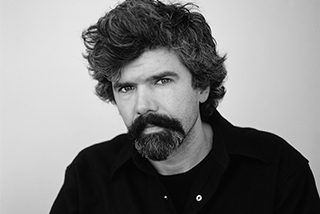 Troy Emery Twigg (Kainai Nation)
Troy is Blackfoot from the Kainai Nation in Southern Alberta. An instigator of progressing First Nations arts in the country, he has worked for various arts organizations in various roles and responsibilities. He has worked as an actor and dancer but is primarily an artist in movement and choreography mostly creating his own works that have toured nationally and internationally including: Iitahpoyii; They Shoot Buffalo, Don't They?; Dancing The Universe in Flux; Pulse; Static.
He has recently performed in Okotoks by Justin Many Fingers and the touring version of Omari Newton's Sal Capone: The Lamentable Tragedy of... produced by Vancouver's Urban Ink Productions. Troy has also taught courses on Indigenous performing arts at the University of Lethbridge, University of British Columbia Okanagan, Centre for Indigenous Theatre and the Banff Centre for Arts and Creativity. He was just commissioned as a guest artist to create a work performed as part of Decidedly Jazz Danceworks' Modern Vaudevillians and creating a duet for Swallow A Bicycle Theatre as part of Labelled.
He is guest and co-curator for Dance Collection Dance' exhibit By Invitation Only: Dance, Confederation and Reconciliation, which opens June 24, 2017 in Toronto. He along with Amy Bowring co-curator will be doing a presentation on this exhibit with traveling panels to the Canada Dance Festival in Ottawa at the National Arts Centre. His writing was featured in "Correspondence: real time + real distance", which will be published in the near future. He has also co-authored with Kris Demeanor an article on Making Treaty 7, where he served as an Artistic Associate since its inception and Artistic Director, that will be published in Canadian Theatre Review this year.
Photo Credit – Blaire Russell Photography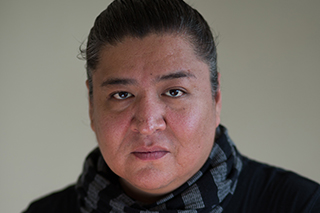 Marie-Êve Cormier (Montréal, QC)
Bachelor of Art in theatre & pluridisciplinary arts at the University of Moncton, Marie-Eve "Mêve" Cormier is a well rounded Pan-Canadian art scene trailblazer. Set and costume designer, actress, digger of many diamonds in the rough, Mêve contributes her many talents and passions, first with the Satellite théâtre, the Théâtre Français de Toronto, the collective Moncton-Sable , Circus Stella and more recently, with Sortie de Secours, La Cigogne, le théâtre de quartier et Théâtre Blanc.
Mêve is a two-time recipient of the Bourse Banque Nationale Prize given out by the ATFC (La fondation pour l'avancement du théâtre français au Canada). In 2011, Mêve took part in intensive training in Italy with mask maker Maestro Sartori), and in September 2015, was awarded the prize once again during a ceremony in Ottawa. The latest training was with the founders of the Old Trout Puppet Workshop in Massachusetts and included a Set Design intensive at the Banff Creative Center.
She is increasingly invested in numerous socio-cultural volunteer projects. Certified in community and international development by PUCRS (Brazil), she has taken the role of student representative at the Canadian Commission for UNESCO convention in Halifax and was New Brunswick's delegate at Toronto's Canadian Youth Art Network (CYAN). Mêve is also involved in various event development scenario along with qilo solutions and is also involved with several solo artists with their grant applications and concert bookings. She continues to evolve, bustling in set design, mask making, teaching & puppet building.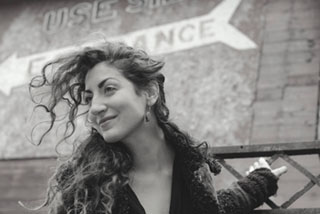 Ian McFarlane (Calgary, AB & Vancouver, BC)
Ian is a multifaceted theatre artist based out of Calgary and Vancouver. He is currently pursuing an MFA in Contemporary Arts at Simon Fraser University. Ian specializes in devised theatre and interdisciplinary collaboration, having worked as a scenic designer, a performer, a producer and a puppeteer. His most recent creative obsession is with puppetry, leading him into a study of object-oriented performance. Ian is fascinated with the discarded, the misplaced, and the forgotten, which has developed into a sustainable practice of working with unorthodox materials. Ian is a Co-Artistic Director of Mudfoot Theatre in Calgary, Alberta and a frequent puppeteer with Bread and Puppet Theater in Glover, Vermont. Paralleling his need for creative expression, Ian also navigates his life with a bicycle, a paddle and a pair of hiking boots.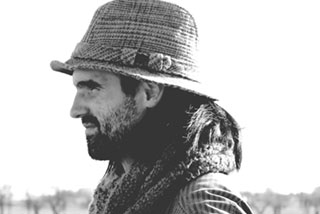 Geneviève Paré (Calgary, AB)
Geneviève Paré is in the practice and profession of building, shaping and performing live theatre. She is Co-Artistic Director of Mudfoot Theatre, a Folk-Art company who strives to invigorate the Canadian ethos through humble magic, puppetry and the performing arts. Alongside her practice as a theatre artist Geneviève works as a professional wilderness guide and outdoor arts facilitator. Her work as Associate Director of the Canadian Wilderness Artist Residency brings artists down remote Canadian rivers to uncover a deeper connection to wild space, and their practice. Geneviève believes that storytelling is essential in the construction, renewal, and celebration of collective identity.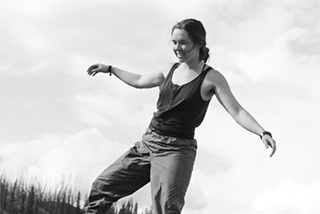 Kimberley Cooper (Calgary, AB)
Kimberley Cooper has been dancing and creating dance for most of her life.  She joined Decidedly Jazz Danceworks (DJD) as an apprentice in 1989 and was Artistic Associate/Resident Choreographer from 2001 until June 2013 when she was appointed Artistic Director.  In 2002, she was named Emerging Artist of the year by Alberta Dance Alliance.  Since 2002 Cooper has created fifteen full-length works on DJD, two of them enjoyed major Canadian tours (¡BULLA! 2005, <in collaboration with DJD co-founder Hannah Stilwell> and wowandflutter, 2009). Cooper also dances and choreographs independently and has performed, studied and or taught in Canada, the USA, Spain, Japan, the Turks and Caicos Islands, Cuba and Brazil.  Her independent choreography has been presented by One Yellow Rabbit, The University of Calgary, Dancers' Studio West, Theatre Calgary, Springboard Dance, Ghost River Theatre, Alberta Dance Alliance (Edmonton AB), Dances for small Stages (Vancouver BC) and SUNY Potsdam (NY, USA). Cooper has created two short films for BravoFACT! and appeared in several others.  She was Artist In Residence at the Calgary Tower as part of Calgary 2012, in June 2012.  In 2014 she was awarded Dance Victoria's Chrystal Dance Prize for research and development in Brazil. In 2016/17 she was one of the choreographers of Canada's National Ballet School's Sharing Dance 150 project.  Cooper recently wrote a chapter in the book "City of Animals" produced by University of Calgary's Humanities Dept. Cooper is endlessly inspired by the spirit of jazz, an art form born out of a culture where dance and music are madly in love, hungry to evolve and greatly influenced by what's happening in the moment.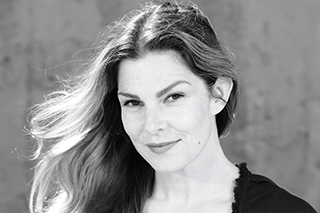 Randi Edmundson (Vancouver, BC)
Randi Edmundson is a puppeteer, actor, and theatre creator from Vancouver. Favourite puppetry credits include The House at Pooh Corner (Western Canada Theatre), James and the Giant Peach (Chemainus Theatre Festival), Freddie in the Neighbourhood (The Little Onion Puppet Company), Trunk Puppet Now! (The Old Trout Puppet Workshop/ NOW! Society), and Kolejka (star star theatre). Randi has designed and built puppets for the Vancouver Polish Theatre, Project X Theatre, star star theatre, Impulse Theatre, and The Little Onion Puppet Company. Randi has a BFA in Theatre from the University of Victoria and studied puppetry at the Banff Puppet Theatre Intensive and with Mind of a Snail, Ramshackle Productions, Jeny Cassady, and Mervyn Millar.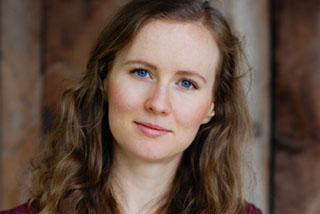 Nick Johnson (Calgary, AB)
Nick Johnson is an Illustration graduate from the Alberta College of Art + Design. Based out of Calgary, Alberta, he has provided work for children's books, advertising, animation and comic books. Fresh from a year long stint as the Art Director for New Machine Studios, he now freelances as a comic book artist and designer while moonlighting as the bass player for the band Me Three. He finds inspiration in contemporary literature, horror films, and the ghosts of utopia.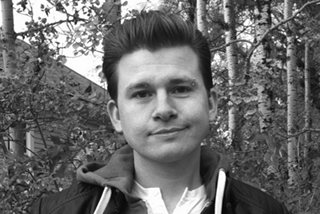 Tank Standing Buffalo (Calgary, AB)
Tank Standing Buffalo believes that there is too much cool stuff in the world and not enough time to do it in. He has studied many mediums and taken on many disciplines to better his skills in art. Tank has drawn comic books for the Eaglespeaker  Connection for a number of years – a native run comic that is distributed world wide. Tank has shown in many art galleries doing solo and group shows. He spent a year and half on Vancouver Island  where he apprenticed as a traditional Totem carver under master carver Phil Ashbee. Tank has a passion for restoring pinball and old arcade games back to their former glory. He's designed for Tiki Farm, the world's foremost maker of Tiki mugs. He works at Big Johnson Tattoos as a tattooist. His biggest work can be seen annually at Screamfest here in Calgary where he worked as Lead Art director for nearly 16 years, designing and building Haunted attractions. Tank has directed a handful of music videos, worked on many movie sets as a special FX and makeup artist, and has won several awards acknowledging his work in this field. He's designed countless gig posters, tshirts for bands, events and even wrestling t shirts.  Tank has turned his attention to animation and would like explore the possibilities that are unique to animation.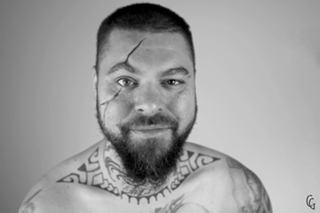 Eya Hey Nakoda (Morley, AB)
Rod Hunter, Gavin Ear, Desi Rider, Anders Hunter and Shanda Hunter formed the drum group Eya-Hey Nakoda. The drum group composes all original songs of their own. Whether it's a big contest or a small traditional powwow, Eya-Hey Nakoda loves to sing and loves to make the dancers dance hard.
At the powwows, before grand entry, different member of the group will take their turn to offer tobacco to the drum and pray. They pray for dancers, the other drum groups and all the people that are there. They give thanks for the spirit dancer, the singing spirit, the drum spirit (grandfather drum), and most importantly, give thanks to creator for life. They would also pray and ask for blessing from the drum so that when the dancers dance, or when the people listen to the music, they will be cured of any ailments.
Eya-Hey Nakoda are predominantly Nakoda from the Bearspaw, Chiniki and Wesley First Nations in Morley, Alberta. They are, however, proud to have singers from different tribes such as: Siksika Nation, Cree, Muscogee, Tsuu Tina Nation, Aniyvwiya, the Dakota Nation, and Blackfeet, to name a few.
Eya-Hey Nakoda are a world class championship drum group that have been traveling for over 25 years to various powwows and will continue to do so.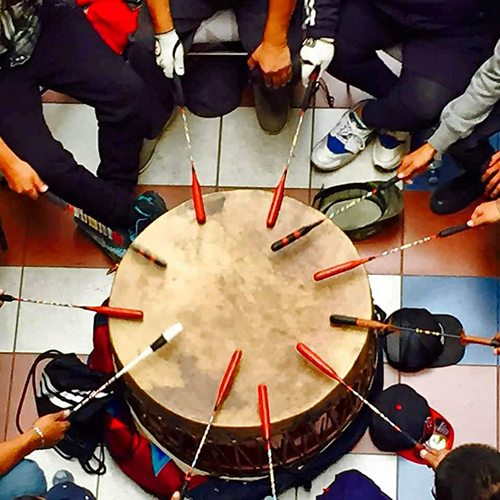 Canadian Academy of Mask and Puppetry
© 2017 Canadian Academy of Mask and Puppetry